Latin: Acarus siro (synonyms are Tyroglyphus farinae and Aleurobius farinae). Also called forage mite.
A white, oval mite with red or yellow legs. It can be up to 0.65 mm long. The main characteristic of the flour mite is that the male has a large, thorn-shaped outgrowth on the first pair of legs. The flour mite is the most common mite in humid grain and damp cereal products, especially flour and grain, where the water content is significantly above 13. The flour mite can be found in stocks of hay, straw, canola, seeds and feed. The flour mite can live and reproduce in environments where the relative humidity is between 62 and 99% and the temperature is between 4 and 32 ° C. It develops most rapidly at a relative humidity of 80-85% and 21-27 ° C. Research has shown that a population of flour mites in can become 2500 times more numerous compared to the original number in just a month. By comparison, the rust-red flour beetles, which hold the record among insects in rapid population development, only increase its numbers by 70 times a month. In grains and seeds for cultivation damages primarily depend on the fact that the flour mites eat seeds and without seeds there is no sprouting. From a consumer point of view, the main reasons to avoid many flour mites are the following:
1. The mites are responsible for the amino acid nitrogen percentage being reduced. By feeding selectively they cause reduction in quality in products and feed.
2. Flour mites smell. Firstly, they have glands, which give a special stinging odour and on top of that the mites rot when they die.
3. There are many reports of animals which have become sick or even died from eating feed heavily infested with mites. Polish experiments with people, who ate food containing mites, show that diarrhea is a typical reaction to the presence of mites. However, there are some fundamental difficulties in placing the roles of mites in diseases connected with food or feed infested with mites. The mites live with high amounts of bacteria and fungi, and the importance of these should not be underestimated. The mites are only in the picture because they are what can be seen with the naked eye. In cases of pig deaths, where the mites have been suspected to be the cause, there have never been major amounts of mites present, but more often there have been moth larvae and moth web in the feed.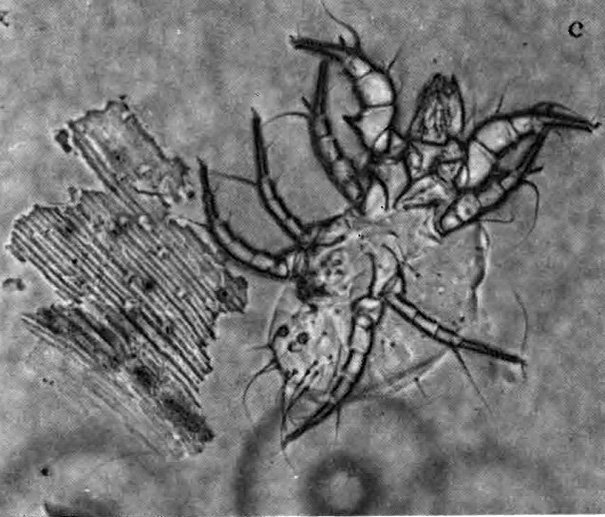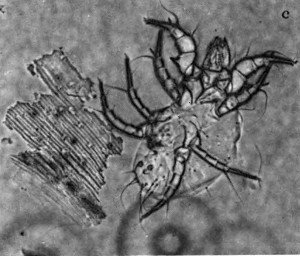 4. Frequent or massive inhalation of flour mites can cause reactions of hypersensitivity. Some scientists today believe that the former debilitating baker's asthma was not actually due to the flour, but that flour mites may have caused it.
The flour mite is part of a complex of species. People who are allergic to flour mites are also likely to react to its close relative, Acarus farris, and perhaps the house dust mite too. Acarus farris live in damp hay and straw in concentrations that could exceed 1 million mites per kilo. It is so closely related to the flour mite that they can hybridize and they probably have the same allergens.
Flour mites are exterminated most easily by moisture removal – in grain and flour to less than 13% water – or by rejecting the goods. Flour mite eggs tolerate poison gas, so this method is not suitable for extermination of mites. Flour mites in visible or smellable amounts should hardly be tolerated in any food.