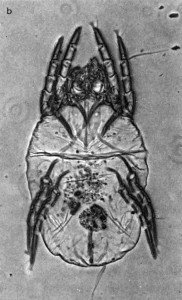 Latin: Dermatophagoides pteronyssinus and D.farinae.
In the wild they most likely live in and around birds' nests, but may occasionally occur as storage pests. The two species are somewhat similar to the flour mite, but the flour mites have smooth skin and the house dust mites have grooved skin. It is possible to find them in animal feed, etc., but house dust mites cannot compete with flour mites, sugar mites and mould mites in food and feed under cold, Northern European conditions. In warmer climates dust mites can be found in mouldy flour, along with other fungi-eating mites.
Beware that the inhalation of dust mites dust may well be hazardous to the health. This applies especially if you are one of the many people, who are already sensitive to this kind of mites.