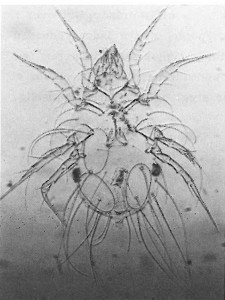 Lat: Lepidoglyphus destructor (synonym: Glycyphagus destructor).
The body is white and can be up to 0.6 mm long. The sugar mite is covered with long hair sticking out in all directions. Each leg ends in a very thin and long drawn joint. The sugar mite feeds on the fungi that infest hay, straw and grain. In cereals this is usually the first species to appear after harvest. In intervention cereals the sugar mite is often seen for the first time around October 10th and is a kind of precursor to the actual sugar mite infestations that start a few months later.
The sugar mite takes up a lot of the landscape. For the same reason it cannot dig like the flour mite, which means that it is not present in flour, but is referred to the substrates with relatively large cavities.