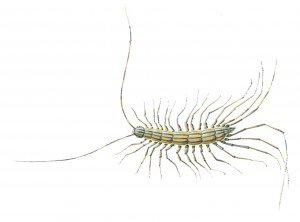 (Latin: Scutigera coleoptrata)
This centipede comes from the Mediterranean countries where it is often found indoors. It has been recorded a few times in northern Europe.
Like other centipedes this is a predator which kills its prey by using the foremost limbs which are modified to form a pair of poison claws.
In contrast to the small centipedes found in the garden, this species can, when disturbed, bite in areas where the skin is thin. The bite can be seen and it may result in swelling, but it is not serious.